On the 21st and 22nd of February 2020 Andrijana and Tamara together with our volunteer Ana Marija attended a meeting in Belgrade for our new project "Developing a new generation of sport fans". The project is a small collaborative partnership co-funded by the Education, Audiovisual and Culture Executive Agency with Football fans association "The Gentlemen" –Serbia, A.S.T.E.R.I Association – Greece and Local football club "Lokomotiva" – Serbia, and will last until December 2020.
The partner countries had passed through a turbulent period of political and economic crises, which have had numerous negative impacts to whole society in terms of increased violence, nationalism, hatred, social exclusion, lack of appropriate education, etc. All these impacts were and, sadly, are still present, especially at the sport stadiums and within the young population. The idea of the project is to tackle this societal challenge by approaching the sensitive adolescent population which is most exposed to these negative influences and to try to initiate a change through educational trainings, raising awareness through revealing the causes of bad behaviors and exchanging experiences on good practices.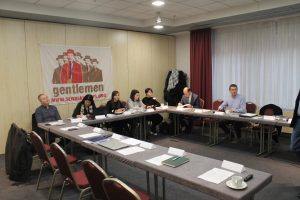 During the meeting the lead partners Football fans association "The Gentlemen" introduced the theory and practice of fans in the world and gave recommendations for weekend fans tour. Dejan Ignjatovic, a journalist that is working closely with the association talked about how fans are presented in the traditional media as well as in the social media and we also heard from the referee Nemanja Joksimovic and a school manager Dragi Lukic about their experience with fans. We didn't leave out the negative side of the fans that is hooliganism and violence, so there was a presentation on the topics from experts Marija Djoric and Bozidar Otasevic.
Next activity for this project will be a meeting that CID will be hosting in Kumanovo with guests from the partner organizations, where we will have the opportunity to share our reality and experiences from our country.